Anyone who has an eye for luxurious and sensuous fabric would definitely like silk. It is the strongest natural fiber. Silk has been around for centuries; it doesn't go out of fashion. Silk originates from the cocoons of silkworms, silk comes first before other fabrics?
Most experts find it somewhat difficult to identify the quality and different types of silk. In addition, the slippery and smooth texture of silk makes it difficult to sew. Nowadays, there are quite a number of casual varieties of silk.
They include; silk jersey, silk knit, silk spun that can also be made into leggings, short underwear, dresses, t-shirt, amongst others. In addition, some individuals believe that silk has properties that protect the skin from electromagnetic energy.
What types of silk fabric are there?
There are various types of silk fabric; discussing the most popular ones will be a thoughtful thing to do. They include:
Silk Charmeuse
Also known as silk satin, looking for the best outfit to adore yourself? Consider charmeuse; it is the best form of silk fabric for sewing fabrics. You can make beautiful flowy dresses, loose blouses, lingerie, scarves, and kimonos with silk charmeuse. It is quite a soft, medium-weight silk fabric with a satin-ish and lustrous dull back and glossy face known as crepe-backed satin. It has a shiny right side and a matte wrong side.
Chiffon
This type of fabric is sheer, which means that it is lightweight and semi-transparent.
Anyone who likes evening wear will have lots of chiffons. Also, chiffon is good for ribbons, scarves, and blouses. Something is fascinating about chiffon fabrics; it provides an elegant and floating appearance. Chiffon is a lightweight fabric, and it easily frays. Chiffon is more lustrous and quite smoother than Georgette. It has a slightly rough feel due to the use of twisted yarns.
Georgette
Georgette is a crepe fabric; the fabric got its name from French dressmaker Georgette de la Plante; she introduced the eponymous silk fabric as early as the twentieth century.
Georgette has an amazing feature of clinging to the body. It is not as sheer as chiffon. It is used for bridal wear and evening gowns; it can be sewn in different dress forms like flare, line, or wrap dress.
Stretch
Pure silk blended with a small percentage of lycra or elastane provides elastic and stretch to the fabric. The fabric is ideal for jackets, skirts, and dresses. It is mostly produced in plain and pattern versions. The texture is elastane which provides elasticity; it is also lightweight and has a beautiful drape, which makes it comfortable to live in.
The Best Fabric For Silk Pillowcase
Most pillowcases are made from mid-weight silk. It ranges from 180mm, 22mm, and 30mm. The best fabric for a pillowcase is 100% pure mulberry silk charmeuse. Charmeuse fabric is somewhat soft and lustrous, has the properties that deliver soothing and a good night's sleep. The silk thread should be woven tightly to create a durable and luxurious touch. P.S Higher momme (mm) simply means more silk was used. Pillowcase with higher momme tends to be softer, heavier, and durable. Also, a higher momme pillowcase is usually machine washable, making it easy to care for, unlike lighter ones that require hand washing.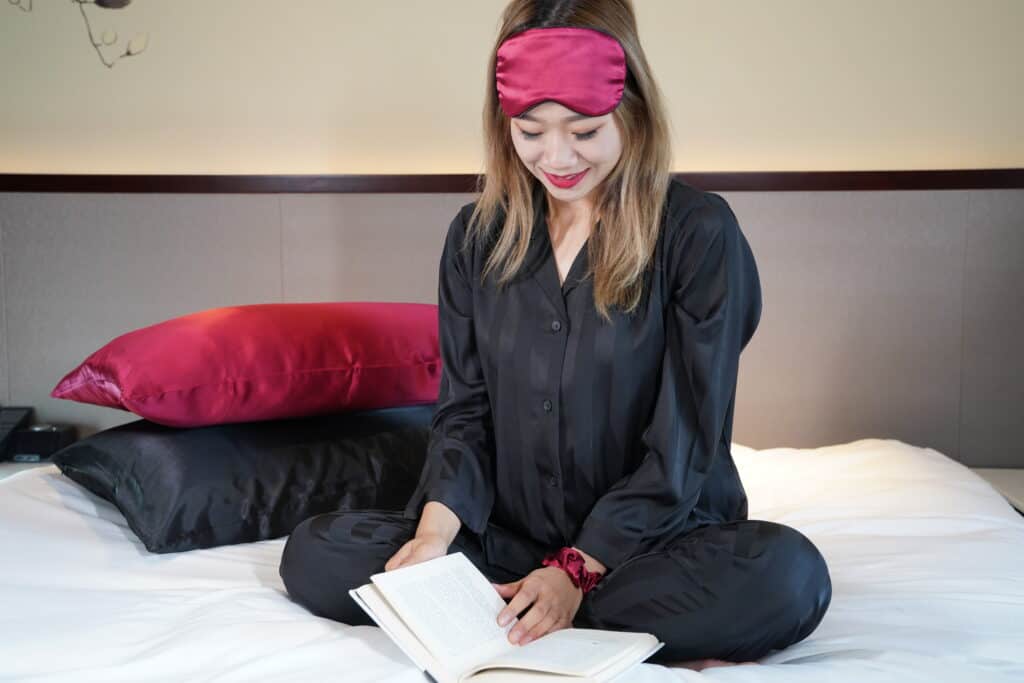 Isn't it incredible that silk pillowcases don't just provide comfort but also have health benefits for skin, hair, and health, no matter how light or heavy the momme is? Silk pillowcase provides enormous moisture for hair and skin. Unlike cotton fabric that is absorbent and pulls moisture from hair and skin while you sleep. In addition, silk generally is protein-based, therefore retaining moisture in hair and skin.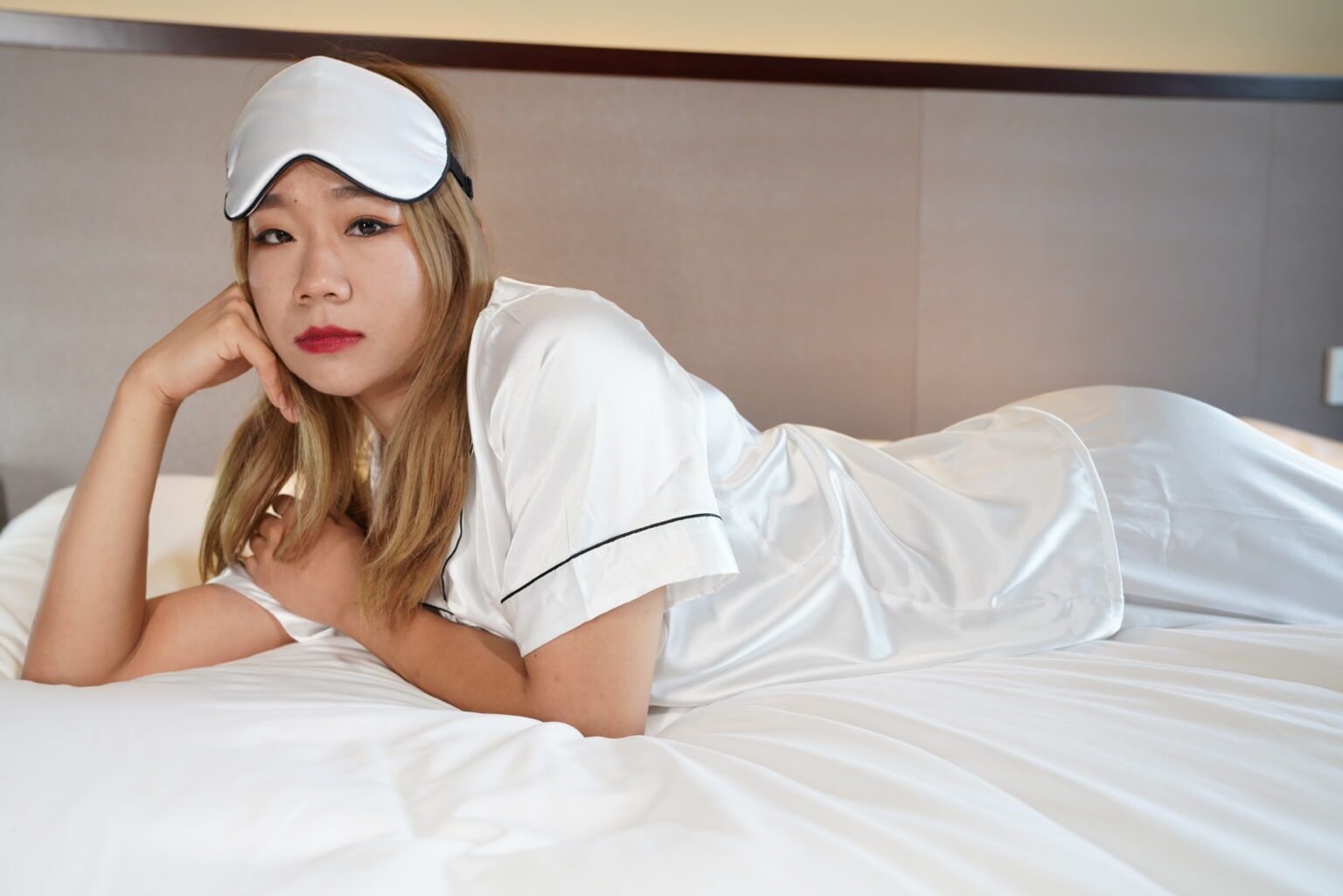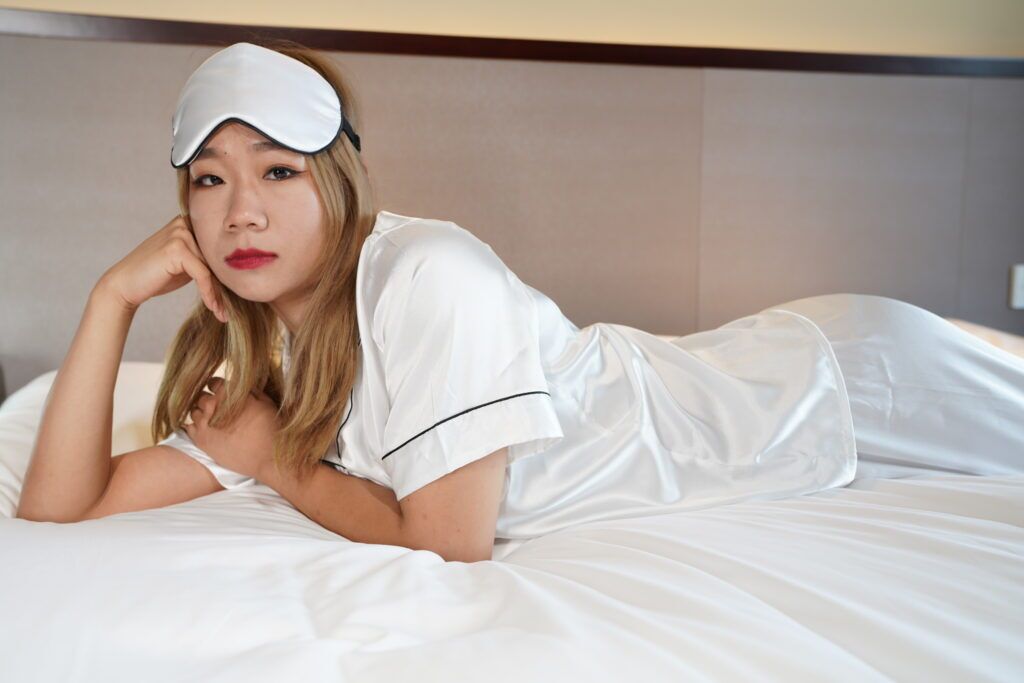 Silk pillowcases minimize sleep wrinkles. Cotton pillowcases tend to tug and pull at delicate facial skin, causing it to be creased and wrinkled.
Crepe satin is the best fabric for silk pajamas. It is more breathable and comfortable. The regular momme is usually 12mm, 16mm, 19mm, and 22mm. So 30mm is the ideal choice to make a luxurious choice, but usually quite expensive. Crepe satin allows you to feel the right amount of cozy, accompanying soothing night, and also helps you slide into a memorable sweet dream.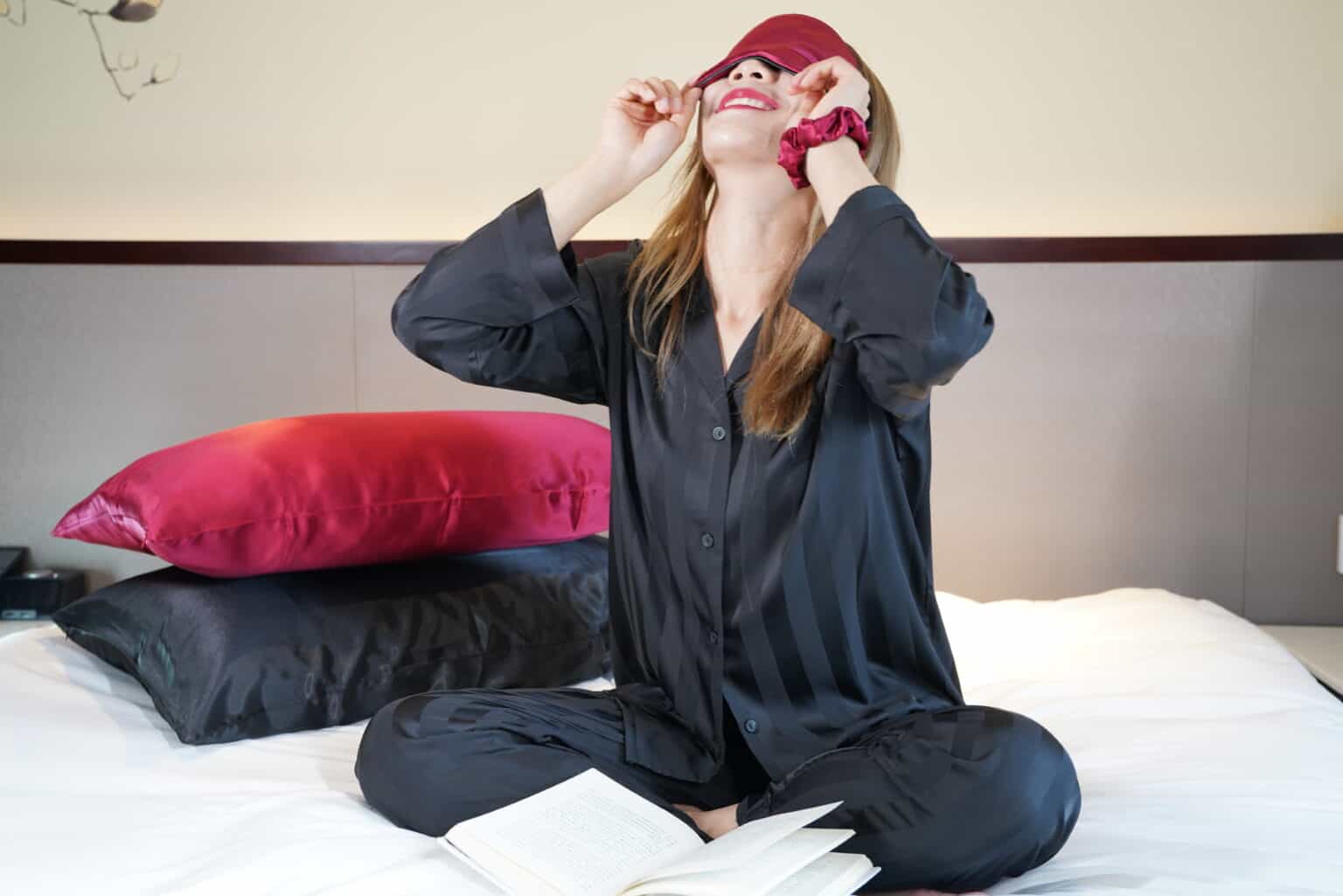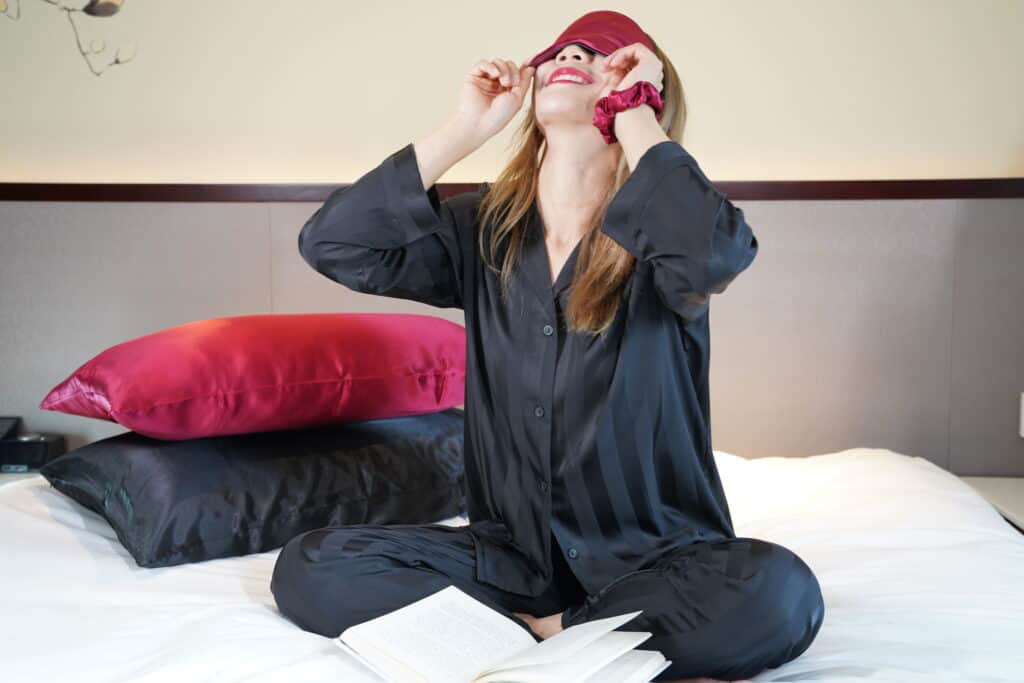 The Benefit Of Silk Pajamas
Silk pajamas help regulate body temperature; when you sweat, silk somewhat wicks away moisture and keeps you cool and refreshed. Silk pajamas are the best pajamas for year-round comfort; even in cold weather, it creates an insulating layer that gives warmth. Silk pajamas are gentle on sensitive and acne-prone skin. It is super hypoallergenic and non-irritating.
Which Material Can You Use For a Silk Eye Mask?
The silk eye mask is a luxurious piece; the best material for a silk eye mask is mulberry silk. It has a slippery surface. 22 momme is the perfect momme for silk eyewear.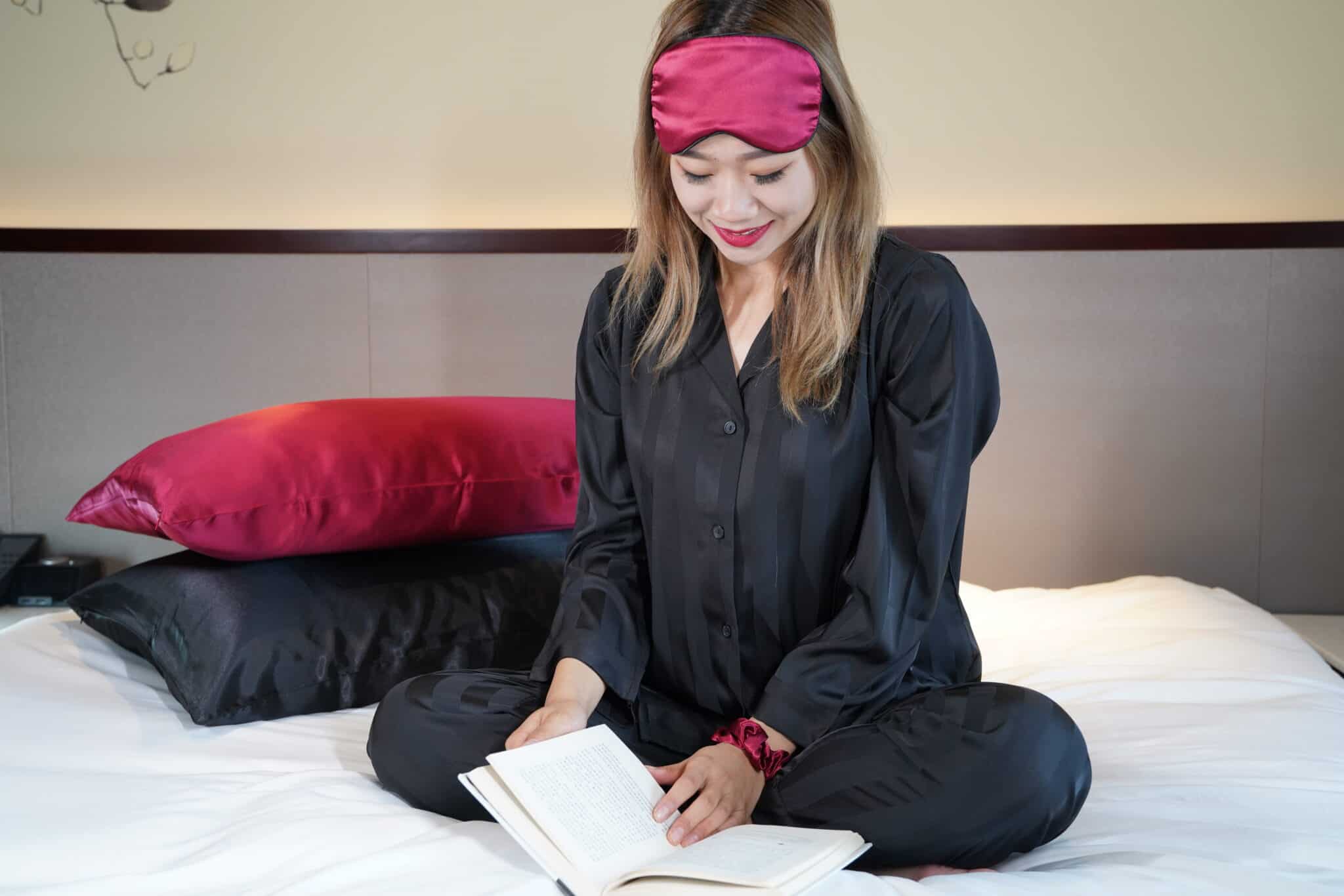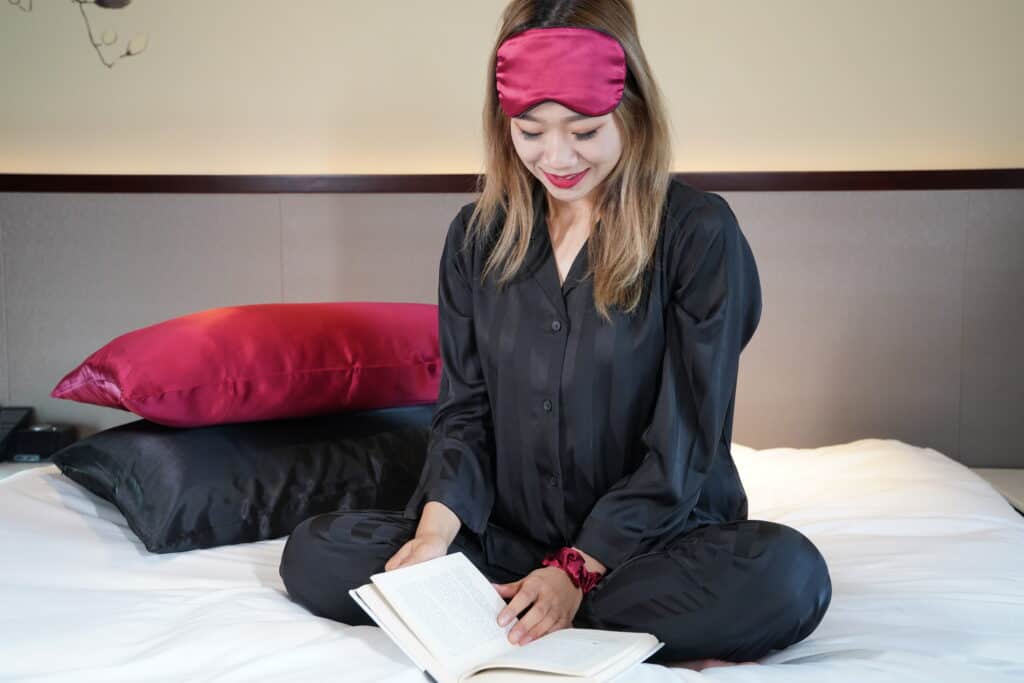 Sleeping with the best eye mask can make a huge difference. It relieves stress, relaxes the muscles, creates a good sleep environment, brings total darkness, helps you sleep easily and soundly, eliminates interference, and helps cover light irradiation on the eyes. It also facilitates blood circulation; it stops crepey skin around the very delicate eye area. It doesn't just block all visual distractions and quiet your mind. It solely targets your skin and protects it, keeping you healthy while you sleep.